DIY Fitted Bedrooms Customer Testimonials
Please see below just some of the testimonials we have received at DIY Fitted Bedrooms.
Thanks to COVID19 I am only just starting to instal the first class furniture we purchased from you in July. We are highly delighted with the furniture and the service we received.
Tony and Pauline Berwick, 2020
Found these guys on the internet. Had a good look at the various options and spoke to Matt over the phone about what I was after and ordered two wardrobes via their website. The product quality and service/delivery was brilliant. I was kept informed throughout the whole process.
When the wardrobes arrived the weight of the parts shouted quality. There were full instructions for fitting but it was very easy to work out the assembly anyway. Due to the assembled weight the hardest part was lifting them upright and into position on my own.
The only downside is that my wife now wants me to order another set of three wardrobes for our bedroom. Thanks Matt!!!!! Use with absolute confidence.
Mr Farr, 2020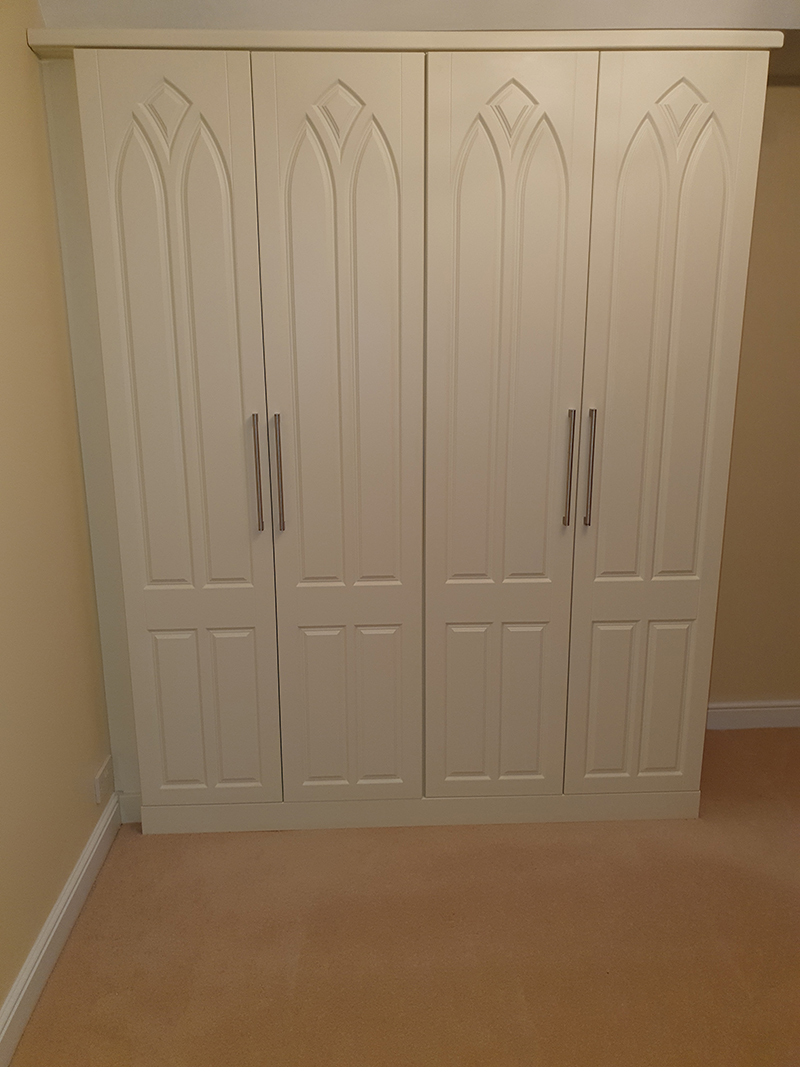 Photograph kindly sent in by customer.
Hi Matt, we have finally got around to fitting the wardrobes today and I'm very impressed of the quality and build. It is just what I wanted and more!
Thank you so much!
Vicky Ellis, 2020
Dear Matt
Thank You for the excellent service, the sides arrived yesterday as you said and were wrapped very very well, no marks. Everything is up and great. We are very very pleased with them. I will certainly recommend your company! Many Thanks.
Mr Syrett, 2020
Hi Matt, we have finally got around to fitting the wardrobes today and I'm very impressed of the quality and build. It is just what I wanted and more!
Thank you so much!
Vicky Ellis, 2020

First off many thanks for you assistance and to the delivery driver who dropped the wardrobe off. I have now finished and they look great, from pre order to delivery everything you stated was spot on the the quality of the wardrobe are of the highest standards, I felt I got real value for money, yes I could have got some slightly cheaper but to be honest their telephone sales were very pressurised but your team were not and you answered all my questions. Having to do some modifications was made easier due to the construction of the wardrobe they were easier and the instructions and the assembly Video on you tube was a help.
I would definitely recommend your company. Again many thanks for everything, I have attached a some images to show you what they look like.

Ken Jones


, 2019
Dear Sir/Madam

Just a quick word to say thanks for our 3rd delivery (yet another two rooms to be done) and please thank your delivery guy, he is a perfect gent & represents your company perfectly.
Many thanks, regards

Mr & Mrs L A Ballard, 2019



It is very easy for any supplier to claim their product is very good or even the best but very unusual for that to be true nowadays. Well as a carpenter I can say that M2M furniture is the best of its type. The joints a millimetre perfect, provided attention is paid to level and plumb. The provision of a shallow unit enables the problem of a chimney breast in older properties to be overcome. On this particular job I fitted the shallow unit projecting 40mm out from the units either side and mitred the cornice/plinth accordingly. This is the centre piece finished of with a mirror fixed to the outside of the door and the finished job looks like proper joinery. Well done everyone connected with my initial phone enquiry, making up the order packing and delivery.

Terry Dodd, 2019
Hi, 
I have just taken delivery of my bedroom furniture, it looks mint and I am very pleased, I really am impressed with this furniture.

Steve Whiting, 2019

Hi Matt
I would like to say how delighted we are with the furniture, we are very impressed with how well made they are!.
Sue Silverthorne Jun 2017

 
Hi all at Made2Measure
Having recently finished our bedroom with your beautiful wardrobes - I am so pleased with them, I'm ready to start my next project.

The Dawes Family, 2019



Hi Matt

The wardrobes and units look great in our bedroom and I thank you for your good quality workmanship.
Best wishes

James, 2019


Hi all
many thanks for all your help, furniture fitted and looks terriffic.

Regards 
Paula and Phil, 2018



Hi,
I used the videos on your website, turned out even I could follow the fitting process.
 Thankyou.
Andy Marks, 2018



Just a note to say how pleased we were with your product and your help in the ordering process.
Regards

Ian Martin, 2018



Hi, I'm pleased all fitted exactly as we wanted.
Many thanks. 
Steve, 2018



Dear Matthew,
we are just writing to say how pleased we are with our fitted bedroom, our carpenter has complimented you on how easy they were to put together.

Sarah and Mark Stevens, 2018



Hi Matt

Sorry for the delay in sending this email, I have attached two pictures of the finished bedroom as promised. I must admit that the quality of build and finish are superb to be honest much better than I expected, you always worry when you buy on line is the product up to your expectations, in this case yes and more. What I liked about the units was the attention to detail such as the feet adjustments , the fixings and fittings etc. and the ease of assembly and the rigidity when finished. would recommend these to anybody.

David Peck
, 2017

Hi
I just finished my bedroom with the product supplied by yourselves and I must say I was delighted with the quality and service provided, it was well worth the money and my wife is now pleased.
Many thanks

Leonard Brown, 2017

Hi Matt, the door and shelf have arrived and have been fitted. I'm in danger of repeating myself, but it looks stunning....!! Thanks for all the consideration and help, you have a superb product.
Cheers
.
Ron and Lesley, 2016


Hello Matt, I would just like to say a huge thank you for our wardrobes. They are brilliant and very good quality. My joiner was impressed. I will make sure I recommend your company to friends and family.
Thanks again
!
Hayley, 2016



Hello Matt, this is to confirm that delivery was safely made a week ago. Thank you for your help with the order and that you kept in touch. Our fitters installed the cupboards yesterday and they look every bit as smart as your gallery photos.

Ken and Sheila Langridge, 2015



Hi Matt, just to say the wardrobes look great and fitted perfectly – very clear instructions and excellent quality.
John, 2014



Thank you very much for your prompt service. The manufacturing quality is excellent and very precise. Very easy to build single wardrobes down to about 20 minutes each. Very strong and smart. I rang and spoke to a few of your colleagues who could not have been more helpful. I would recommend you to anyone excellent.

Martyn and Diane, 2013




Good afternoon Matt, the furniture arrived safely and is now almost finished. We are very impressed with the quality and how well it all went together. I was particularly impressed with the web site and ordering on line service, I found it comprehensive and easy to use, from choosing designs, to the videos of how to build. 
Thanks also the the young man who delivered the furniture, as I understand that he stood in for the regular driver. I will certainly recommend your company to friends.

Kind regards 
Marilyn Kingsnorth, 2013



Wardrobes up, all first class.

George Green, 2013



Takes alot to impress me, but matt, I was impressed, many thanks, went together superbly.

Dave, 2013



Hi Matt, just used your website for my diy fitted bedrooms and found it very easy to navigate, particulary impressed with the do it yourself video help, hope I make it look as easy when they arrive!

Sam & Steve, 2013



Thanks for our diy wardrobes, did exactly what it said on the tin!

Jo & Mark, 2012



Thanks for what you delivered, it looks great and we are very pleased with it. Min and myself would recommend you to our friends, once again thanks very much.

John & Min, 2012


Just to say thank you for all your help. John has fitted them and they look really good. Very impressed with the whole service, what a pleasure in this day and age.

Jill Smith, 2012


Dear Matthew, we would like to thank you and all at DIY Fitted Bedrooms for the help you have given us both in the planning and in the supply of our units.

V Orchard, 2012


My apologies for the many phone calls I made with regards to our fitted furniture, but many thanks for your kindness and patience. Bedroom now installed and looks wonderful.

J Chapman, 2012


Website easy to use, product goes together wonderfully, many thanks, by using supply only bedroom furniture instead of a fitted bedroom company it made a significant difference to the overall cost.

P Walker, 2012


Having fought my way through many flatpack units over the years, I would just like to say what a pleasure it is to assemble your furniture, no more flimsy draw bottoms and back panels, my wife couldn't be happier with the end result, thought I had got a professional in to help me!!!!

A Ephgrave, 2012

Took me a while to find you, but v pleased I did. Finished job is fabulous.

A Gray, 2012


Instructions were great, my interpretation was poor, many thanks to Matt for all his help, nothing was too much trouble.

P. Burdall, 2012


Just a note to say thanks to Ross for all his help with the delivery, not quite as easy as I thought, and Matt for his help with the building of the furniture. Was a bit skeptical about using self assembled bedroom furniture and assembling it myself, but with a few phone calls in between it couldn't have gone better.Great job.

I Davidson, 2011